Diaper Drive – A Cause You Can Get Behind
Donate Diapers or Dollars to Babies in need TODAY!
---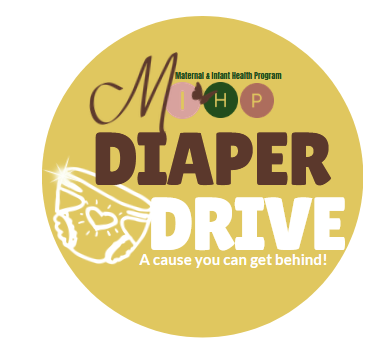 Diapers are not a luxury.  They are an absolute need. They are necessary to keep babies bottoms clean, dry and healthy. 
MIHP is accepting donations of new packages of baby diapers (all sizes) including baby wipes, rash creams, or baby hygiene items. 
100% of all donations will be given to eligible Maternal Infant & Health Program (MIHP) participants.
Drop-off Location: 
St. Clair County Health Department | 3415 28th Street | Port Huron | MI 48060
During regular business hours: Monday 10:00 AM - 6:30 PM  or Tuesday through Friday 8:00 AM - 4:30 PM.
Dollar Donations: 
---
Diaper Facts & Statistics
 According to Realdiapers.org as of May 2022:
Disposable diapers for a single baby will cost around $70 a month and $840 a year.
Babies will use about 6000 diapers during their first two years of life.

95% of mothers

 in the U.S. solely use disposable diapers for their children.

1 in 3 mothers cut back on basic essentials to afford diapers for their children.
---
St. Clair County Maternal Infant & Health Program (MIHP)
---
MIHP is a free benefit for Medicaid eligible pregnant women and infants up to age 1.  MIHP makes sure pregnant women are on the road to a healthy pregnancy with positive birth outcomes. When the baby is born up to age 1, MIHP helps with meeting growth and developmental milestones.
Updated July 5, 2022