The St. Clair County Health Department offers the COVID-19 Vaccine onsite (3415 28th St. Port Huron). Use the link below to self-schedule your 1st, 2nd, 3rd or booster dose appointment. Vaccine preferences for the first dose (Pfizer, Moderna, or Johnson & Johnson) can be communicated at the time of appointment.
Ages 5 to 18

Ages 19+

Vaccination Day Reminders

Consider the following reminders before attending your scheduled vaccination appointment:
Please defer your appointment if you are: in quarantine due to an exposure, currently experiencing COVID-19 symptoms, or have recently tested positive for COVID-19.
Do not check in until 15 minutes before your scheduled appointment.
Please bring your COVID-19 vaccine card with you. 
Wear a short sleeve shirt.
Teen Health (2215 Court St. Port Huron)

Teen Health is administering COVID-19 vaccine for those 10 to 21 years of age. To schedule an appointment at that location, please call (810) 987-1311.
**Everyone Ages 12 and Older Can Get a Booster Shot**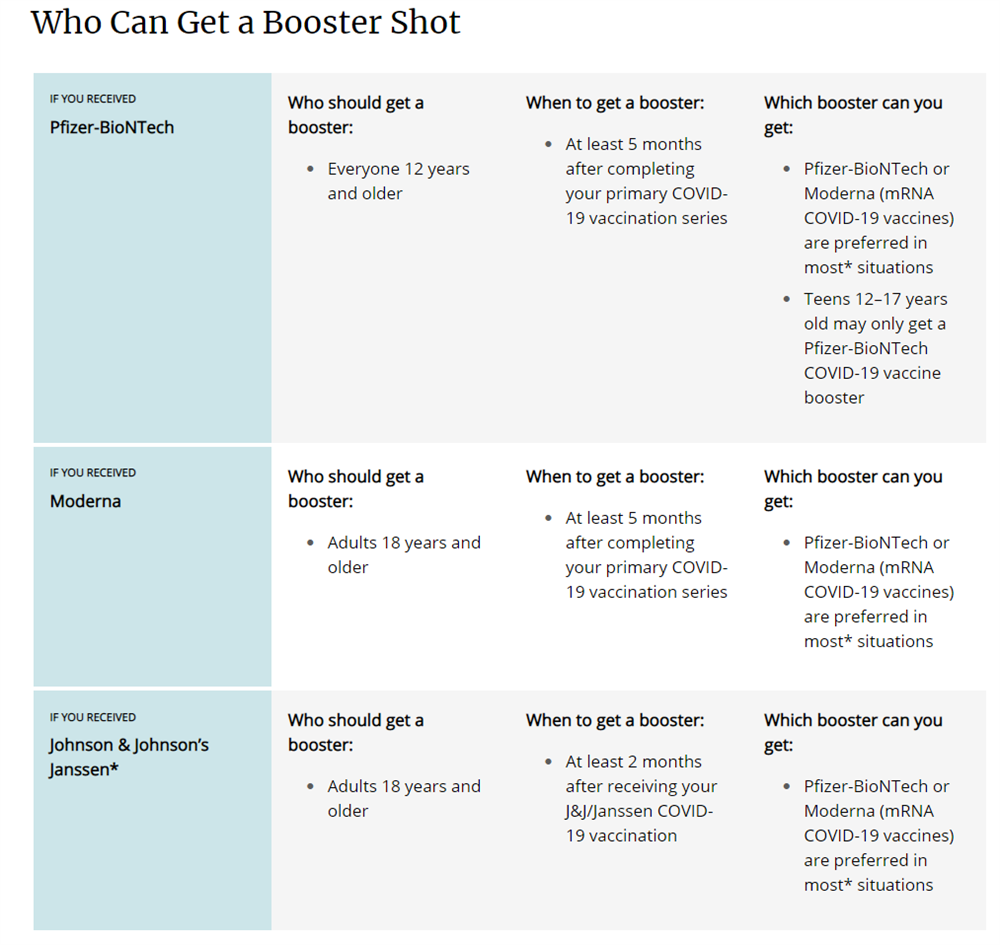 Second Booster Dose
Adults age 50 and older and some immunocompromised individuals are now eligible to get a second Pfizer or Moderna booster dose at least 4 months after their first booster (whether they received a Pfizer, Moderna, or Johnson & Johnson booster). Older adults—especially those with underlying medical conditions—and people with compromised immune systems are at higher risk of severe COVID-19, and are among those most likely to benefit from the additional protection of a second booster shot.
Additional Vaccine Locations
COVID-19 Vaccine Information for Medical Providers
Staff must be trained to appropriately manage and administer this federally funded vaccine. Ensure designation of a Vaccine Primary and Vaccine Backup Coordinator. These staff are to be experts in storing, handling, managing and documenting COVID-19 vaccine. These staff must be registered Michigan Care Improvement Registry (MCIR) users and associated to the COVID-19 provider site performing vaccination (www.mcir.org/registration).
More detailed information regarding the COVID-19 Vaccine distribution process can be found at:
Vaccinations for Homebound Individuals
Disability Rights Michigan is a state and federally funded organization that is working to ensure that individuals with disabilities, their family members, and caregivers have equitable access to all vaccinations, including COVID-19.  Services are FREE and CONFIDENTIAL and can be done in the comfort of your own home. 
For more information call: 1-800-288-5923