900
Marine Division
Mission Statement: Protect and serve all citizens utilizing the waterways in and around St. Clair County and your community.  Providing a safer boating environment through Education, Enforcement, Environmental Protection and Emergency Response, in an ethical and professional manner.
In 1964, the first marine law enforcement unit was established in St. Clair County.  It began with one boat and two deputies who spent weekends and holidays patrolling the waterways within the county.
St. Clair County contains 115 square miles are water.  The St. Clair County Sheriff's Office is responsible for patrolling everything from the open waters of Lake Huron and Lake St. Clair, to any of the many rivers, canals, as well as the Flats within the County.  The Marine Division works closely with surrounding local law enforcement, federal agencies, the DNR, and area fire departments to effectively respond when an emergency arises on the water.
Marine division deputies are responsible for enforcing State and Local laws. Deputies are specifically trained to assist in search and rescue operations and provide emergency medical assistance when necessary.   They investigate accidents, complaints, and crimes in addition to providing general assistance to boaters.  Along with this, vessel safety inspections and livery inspections are routinely performed. 
Currently the Marine Division is run by a sergeant who oversees 35 marine deputies.  These deputies are required to meet the state minimum training 40 hours, often exceeding that.  They attend a multitude of trainings a year both on the water, on the range, and in the classroom to be best prepared.
Due to the large area, the Marine Division currently has two stations.  In the southern part of the county, there is a station at Colony Marine in Pearl Beach to allow quick access to the St. Clair Flats area. In the north, St. Clair County Marine Division is stationed on the Black River.
Boaters safety is of utmost importance to the department.  Obtaining your boaters safety certification is easier than ever now.  Classes are offered online and can be taken whenever and where ever is most convenient to you.  If you have lost your boaters safety card, simply visit: https://www.mdnr-elicense.com/ to request a new one.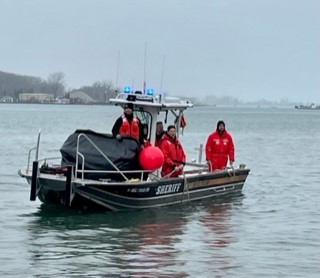 The St. Clair County Dive Team began in the 1950's. Members of the local dive clubs would often be asked to recover drowning victims by local law enforcement agencies. In the 1960's a team was organized under the Civil Defense director for the county. In 1969 the St. Clair County Sheriff's Office took over the team. Primarily a search and recovery team, it was not until the mid 1980's that they started operating as a "Rescue Team". Cold water near drowning cases were showing that there was a possibility of a drowning victim surviving nearly one hour underwater with the right conditions. This is why the St. Clair County Dive Team responds in "Rescue Mode" when a life may be saved, regardless of borders. St Clair County Sheriff Dive Team Members are sworn in Marine Deputies