St. Clair County Brownfield Redevelopment Program
Brownfield Redevelopment
Brownfields are abandoned, idle, or under-used industrial and commercial properties, often in urban areas, where expansion or redevelopment is hindered or complicated by real or perceived environmental conditions. Many areas across the country that were once used for industrial and commercial purposes have been abandoned or are underused for their location - some are also contaminated. Brownfield problems are not limited to large cities with long histories of heavy industry and large-scale manufacturing activity. Small towns and villages in Michigan also have properties suspected of contaminatio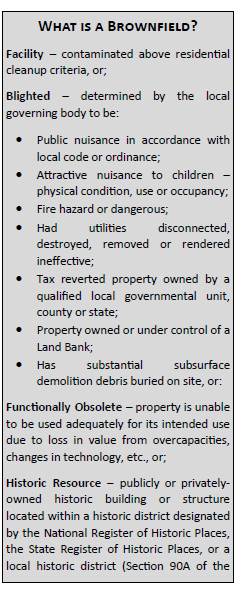 n, or old buildings which have become eyesores in need of demolition. Brownfields present challenges to potential developers, whether contamination is discovered or suspected. 

At first thought, most people associate "brownfield" sites with environmentally contaminated property. Federally (and in Michigan), that is one definition; however, in Michigan, properties that are "blighted," "functionally obsolete" or a "historic resource" are also considered to be included in the definition of a "brownfield." It is important to understand this distinction since many properties that a municipal official may get complaints about may not be contaminated, but are likely just downright ugly and falling down but may qualify as a brownfield site.

St. Clair County's Brownfield Redevelopment
Program
In May of 2005, the St. Clair County Board of Commissioners
established the St. Clair County Brownfield Redevelopment
Authority (SCCBRA) to assist in the revitalization of contaminated, blighted and functionally obsolete properties throughout the county. In 2010, the SCCBRA was awarded a $1,000,000 Brownfield Coalition Assessment Grant from the U.S. Environmental Protection Agency. And in 2017, they were awarded a $400,000 grant. With these funds, the SCCBRA has partnered on various environmental assessment activities including: Phase I and II Environmental Site
Assessments
• Soil and Groundwater Sampling
• Lead and Asbestos Surveys
• Baseline Environmental Assessments
• Due Care Plans
• Brownfield Plans, Cleanup Planning, and activities required to pursue additional Brownfield resources.
The St. Clair County Brownfield Redevelopment Program continues to bring together local, state, regional and federal agencies with private sector, non-profit and community organizations to improve the quality of life for residents throughout St. Clair County. They do this by continuing to provide communities and developers of brownfields with:
Liability protection

Opportunities for reimbursement of environmental 

expenditures

Opportunities for grants and low-cost loans

Reimbursement of demolition, asbestos/lead abatement

costs and cleanup activities.

Infrastructure improvements and site preparation activities

 

in the cities of Marine City and Port Huron, both Core

 

Communities.